Guildford
In the late 60s Guildford was very different to now.
Construction of the University of Surrey
Building work started on the new University of Surrey on Stag Hill in January 1966, previously Battersea College of Advanced Technology.
The new Yvonne Arnaud Theatre opened in 1965.
Sainsbury in the High Street had recently changed from a 'counter service' to a supermarket.
The new Youth Centre was up and running in February 1966.
In the 1966 General Election, David Howell was elected as Guildford's MP.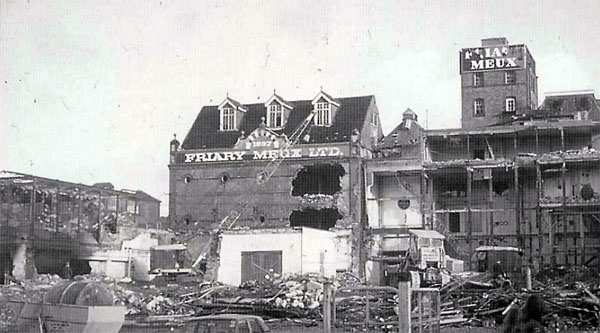 Demolition of the Friary Brewery in 1973
In the mid-1960s Guildford still had:
Guildford City Football Club with its own ground in Josephs Road.
A town show and carnival procession held every summer.
A cattle market held weekly off Woodbridge Road.
Victorian churches in North Street.
The Friary Brewery was still brewing beer.
Castle Street swimming baths.
The Guildford Philharmonic Orchestra conducted by Vernon Handley.
A Municipal Borough Council and a Rural District Council.
'Pop' Concerts in the Odeon Cinema in Upper High Street.
The old Royal Surrey County Hospital in Farnham Road.
Two bus stations – one on either side of the river.
Approximately 30 Pubs in the town centre area.
Holidays from Guildford
Leisure travel was also much different to nowadays.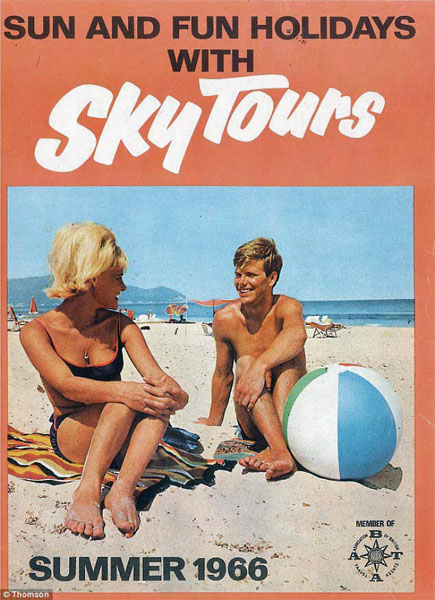 An early package holiday brochure
The Surrey Advertiser offered Holidays for £4 per week in Butlins at Clacton, Margate, Brighton or Bognor.
Camping and Caravanning holidays in the UK were popular as more people owned cars, although massive traffic jams were common in the mid-60s with few motorways.
More people were starting to go abroad with the advent of the 'package holiday', cheap flights and the Spanish Costas.
A week long break to Paris cost 11 & ½ guineas (approximately £12).
15 days in the Costa Brava cost 34 & ½ guineas (approximately £36).